B111 single groove 'O' belt conveyor roller/female
The load capacity is decided by "o" belt drive power and driving device for these series(single groove shaft line driving is higher than double one,the position of groove is customized by customer),the reference date is usua1ly within 300N,suit for light duty conveying.
Features & Benefits
Advantages:
Light weight,nice operating performance.polymerbearing components (can made foranti-static agent),nice appearance. Polymerend cap has the function of dustproof and water slash proof.The weight of subject can't exceed50kgs.
Disadvantages:
Cause the material is polymer,not applicable in high temperature environment.
Application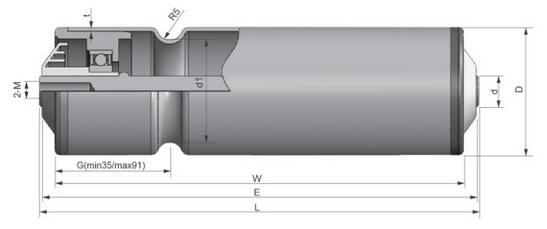 Specifications
Material of tube
Tube diameter and wall thickness
Galvanized steel
Φ 50*1.5
Φ 60*2.0
Stainless steel
Φ 50*1.5
Φ 60*2.0
Roller diameter(D)

Diameter of axle(d)

G

d1

Φ 50
Φ 12/15
E=W+9
L=W+10
65
Φ 38.5
Φ 60
Φ 12/15
E=W+9
L=W+10
65
Φ 48.0
Φ12(M8*15) Φ15(M10*20)
Send Request
Request product information