Roller Conveyor or Skatewheel Conveyor?
22nd January 2021
Skatewheel conveyors and rollers conveyors are great for moving product quickly and efficiently from point A to B. These gravity conveyors can also help to cut down on labor, time, and even towmotor traffic. Although these applications both utilize gravity, skatewheel and roller conveyors have a few differences.

Which conveyor will work for my product?
It is important to determine what kind of product you are moving and which conveyor is best suited to move it. Take a look at the image below to get an idea of which conveyor will work for your application.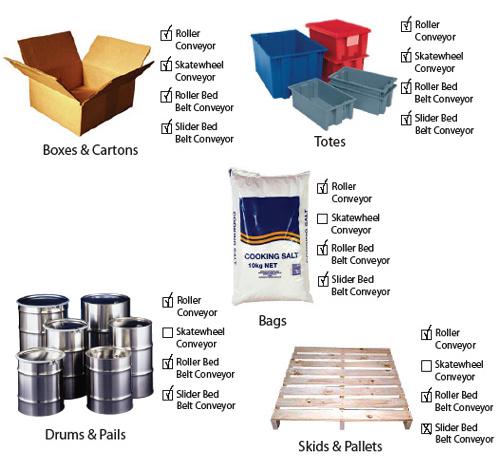 While the two conveyors share many similarities, there are some key differences. Skatewheel conveyors are an excellent, lightweight choice when dealing with a wide range of product sizes. The wheels of the skatewheel move individually which reduces the amount of force needed to move the product. Roller conveyors provide a sturdier solution that can handle lightweight, medium, and heavy duty applications. Take a look at the chart below to see which conveyor can be a solution for you.
| | | |
| --- | --- | --- |
| | Skatewheel | Roller |
| Affordability | $ | $$ |
| Product Type | ✔ | ✔ |
| Boxes & Cartons | × | ✔ |
| Drums & Pails | × | ✔ |
| Skids & Pallets | ✔ | × |
| Totes | ✔ | × |
| Bags | ✔ | × |
| Light Loads | ✔ | ✔ |
| Heavy Loads | × | ✔ |
| Installation | | |
| Temporary with Hook and Rod and Tripods | ✔ | ✔ |
| Permanent with Hstands | ✔ | ✔ |
| Application | | |
| Least amount of slope required to start | ✔ | × |
| Best maintains orientation around curves | ✔ | × |
| Can slide load from side to side | × | ✔ |
FROM: ASHLAND CONVEYORS